Food Voucher Giveaway Alert!
Hey Greater Stark County Community! We're excited to announce our Food Voucher Giveaway program, brought to you by the Greater Stark County Urban League.
When: Starting November 20, 2023, until December 29, 2023 (or while supplies last!)
Time: 10:00 AM - 4:00 PM, Monday through Friday
Where: 1400 Sherrick Rd SE, Canton, Ohio 44707
To participate, follow these simple steps:
1️⃣ REGISTER: Visit starkurbanleague.ticketleap.com/gsculfoodvoucher/ to secure your voucher.
2️⃣ GET YOUR TICKET: After registering, bring your ticket with you to our location at 1400 Sherrick Rd SE.
3️⃣ CLAIM YOUR VOUCHER: Receive your food voucher and brighten up your day with some essential groceries!
Let's come together as a community and support one another during this holiday season. Spread the word and let your friends and family know about this fantastic opportunity!
Remember, it's first-come, first-served, so be sure to mark your calendar and grab your voucher before they're gone.
*The Greater Stark County Urban League offices will be closed Novebmer 23rd & 24th in observance of Thanksgiving.*
Heart of Ohio Diaper Bank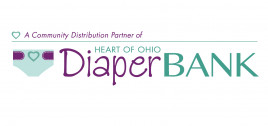 Diapers are distributed Monday -Friday 10a - 1p & 2p - 4p.
The Greater Stark County Urban League is a Community Distribution Partner of the Heart of Ohio Diaper Bank